Dining
At Le Grand Courlan Spa Resort, guests can indulge in an array of dishes and Caribbean atmospheres at our resort's many on-site restaurants, lounges, and bars.
Enjoy the 36-foot cathedral ceilings and stunning views at The Pinnacle, dine on fish du jour at the Caribbean Bistro, or fuel your beachside adventures at Waves Restaurant + Bar.
Relax with a night cap or partake in the nightlife and occasional live entertainment at Breezes Bar. Stop by our swim-up bar, Ripples, for a fresh cocktail without stepping out of the pool. And keep your afternoon on the beach going with adult refreshments at Waves Restaurant + Bar.
Our culinary team lends homage to the flavors of the island while incorporating international elements using fresh and local ingredients to bring you the unique taste of Tobago in every bite.
Restaurants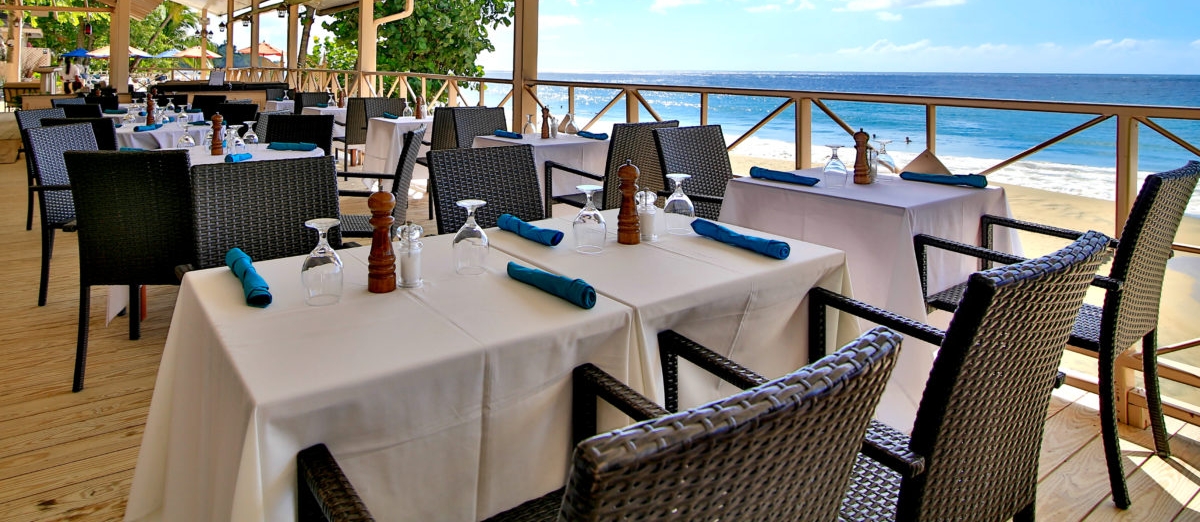 Waves Restaurant + Bar
Formerly known as Buccaneer's Beach Bar & Grill, Waves is the only fine dining restaurant on the island located right on Grafton Beach. Relax seaside at any time of the day with a drink in hand and sand at your feet as the waves beckon you for a quick dip.
Waves is open daily and serves breakfast, lunch and dinner. Revel in one of the #365Sunsets and panoramic views of the Caribbean Sea with a cocktail in hand and create memories for life!
Open daily from 8AM-10PM.
Daytime dress is beach casual. Please note that dry swimwear must be covered. Shirts and footwear required. Wet beachwear is not appropriate clothing.
Evening dress is beach elegance. Shorts, pants or jeans for men, polos, long or short sleeve dress shirts (with or without collar). Dress shoes or sandals, sneakers, flip flops or slippers.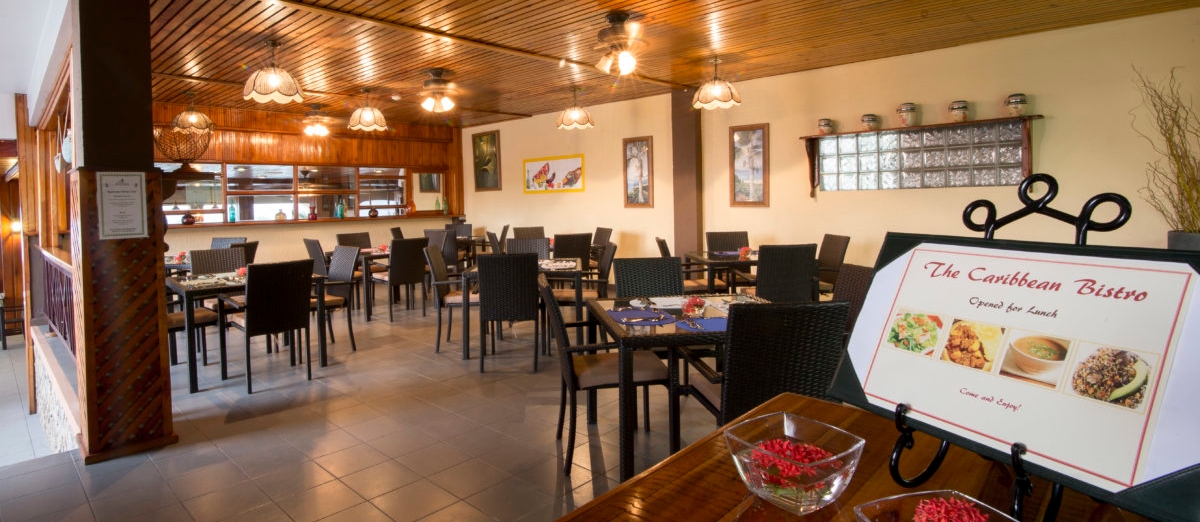 Caribbean Bistro
By reservation only, enjoy island fare at The Caribbean Bistro, which specializes in local cuisine and fine dining. Discover more of Stonehaven Bay on the terrace or experience the tropical garden where its menus are sure to tantalize your appetite. Open for lunch and dinner on selected days.
Lunch is served from noon to 3PM, while dinner is served from 7PM to 10:30PM.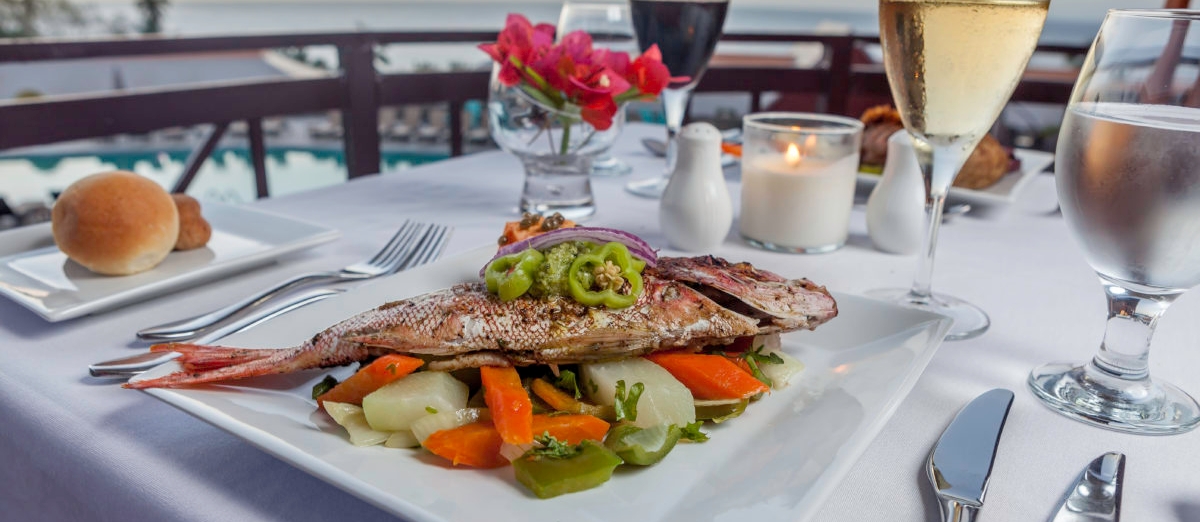 The Pinnacle Restaurant
Our chefs bring artistry to fresh seafood, local cuisine, and international dishes with a deft use of local herbs and spices from Trinidad & Tobago. Enjoy The Pinnacle's teak wood cathedral ceilings and spectacular bay views for breakfast, lunch, and dinner served buffet style or á la carte.
Breakfast is served from 7:00AM to 10:30AM, lunch from noon to 3PM, and dinner from 7:00PM to 10:30PM.
Lounges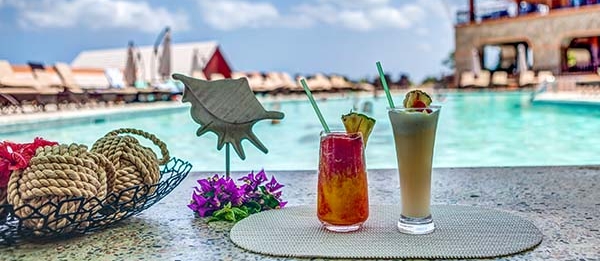 Ripples
Located in the free form pool, Ripples is the perfect place to enjoy a refreshing cocktail without having to leave the coolness of the water.
Open from 11AM to 6PM. Operation is dependent on weather conditions.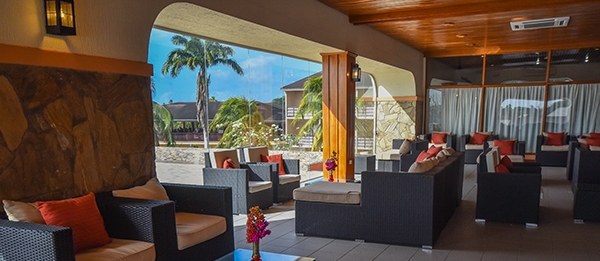 Breezes Bar
Dance the night away and enjoy live entertainment on select nights, take in a nightcap, or wind down from the day with a freshly made cocktail at Breezes Bar, open from 11AM to midnight, serving a variety of local or international cocktails.
Afternoon Tea is served in Breezes from 3PM to 5PM.
Shopping
Indulgence isn't just for fine dining. Delight in some retail therapy while staying with us at our upscale on-site resort boutique, Nini Sur Mer, featuring internationally-inspired men and women's resort wear, beach necessities, and island accessories. Nini Sur Mer carries a number of premium brands, including:
Cynthia Rowley
MariannaG
Triarchy Denim
La Blanca
Solkissed
Julian Chang
Island Company
Le Soliel
Trina Turk
Paridis
Corpo Bonito
Elan
D&G Men
Versace Jeans Men
Sperry
HIHO
Shops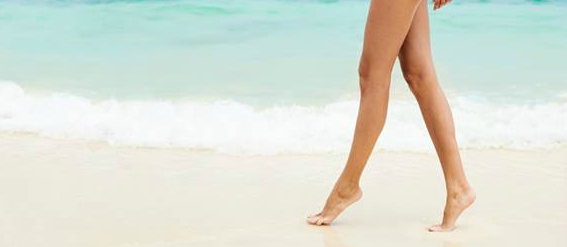 Nini Sur Mer Boutique
Set amidst the Caribbean waters, the aptly named Nini Sur Mer Boutique offers a unique and highly personalized shopping experience. Overlooking the resort pool, take a moment to indulge in a little retail therapy. Curated from around the world by the owner, the Boutique carries resort wear, ready to wear, and beach accessories for men and women.